Spouting Rock Expands into Asset-Based Lending with Old Hill Partners – Article
In early January, Spouting Rock Asset Management (SRAM) announced that it had entered into a merger agreement with Old Hill Partners Inc. (Old Hill). Old Hill is an alternative asset manager focused on providing asset-based lending transactions to small and medium-sized businesses nationwide. Structured as a newly formed subsidiary of Spouting Rock, Spouting Rock Alternative Credit, LLC (SR Alternative Credit), will own Old Hill's lending business and serve as an investment advisor to existing Old Hill funds and others investment vehicles. This new subsidiary will be operated by former Old Hill employees, including Jeff Haas as chairman and Peter Faigl as chief investment officer.
The merger comes after a busy 2021 as Spouting Rock continues to expand its solutions platform. In November 2021, Spouting Rock entered into a joint venture with Australia's Bell Asset Management, acquired a minority stake in Glovista Investments and completed its majority investment in Penn Capital.
ABL Advisor Publisher Michael Toglia sat down with Andrew Smith, Managing Director of Spouting Rock Asset Management, to learn more about this strategic merger and how the two will work in unison to better serve the private debt market.
ABL Advisor: Tell us about Spouting Rock, the history of the company and its market orientation.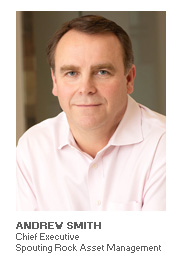 Andrew Smith: Spouting Rock was started by my partner and colleague Blakely Page, as an extension of his family office. After spending time as an alternative outsourced CIO for insurance companies, he decided asset management was the way to go for him. As Blakely moved into asset management, I left Aberdeen Asset Management. Blakely and I knew each other at a local golf club, and we started discussing the asset management business after I left Aberdeen. I finally joined the company in early 2018 and we finally decided to create a new type of shared services financial services company. Spouting Rock is divided into two different areas. One is focused on asset management, under Spouting Rock Asset Management, and the other side is through parent company, Spouting Rock Financial Partners.
Our model is slightly different, in that we don't seek 100% ownership of a group we acquire because we want to ensure that our interests are aligned. We like to make sure portfolio managers have equity in companies; but the one thing that differentiates us from a number of other parties is that we handle everything else through our shared services model. They just have to handle the money, and we handle everything else, from distribution, marketing and customer service to all middle and back office functions. We also use external vendors to ensure that we don't have to increase staff to cover all business areas.
ABL Advisor: Old Hill Partners is an alternative asset manager focused on asset-based lending transactions with small and midsize companies (targeting $10-50 million ABL transactions). Why was the Old Hill business so attractive to Spouting Rock?
Black-smith: There are a few things that set Old Hill apart in the market and made it appealing to us. The first is that they have floating rate coupons to protect against rising rates. It also allows them to take advantage of the inability of small businesses to obtain adequate financing. We try to focus on a number of areas including alternatives, capital preservation and most importantly limited capacity products. The reason we focus on capacity constraints is that we believe that when managers are capacity constrained, they typically outperform benchmarks or alpha.
So why Old Hill? They fit into all of this. They have a phenomenal track record in their lending model. One of our other business partners, John Coyne, often says that many large asset management companies, whether it's JP Morgan, Vanguard, BlackRock, Schroeder's or a few others, do everything for everyone. In other words, they have A to Z strategies to help everyone. We are not trying to compete with those companies. As John would also say… they bake the cake and they have all the ingredients to make it. Instead, our goal is to put the icing on the cake. We're not looking for someone's entire portfolio, just a slice.
ABL Advisor: Is Spouting Rock playing the private debt market in any other way, or is this the first foray into this market?
Black-smith: This is the first foray into this market.
ABL Advisor: Old Hill has done very good business. For example, he entered into a transaction based on water rights. Will they continue to lend in these types of transactions?
Black-smith: That's the kind of stuff we like about the Old Hill model because it sets them apart. For example, they have a very good portfolio of art loans as well as antiques, and they also focus on the rail, automotive and aviation sectors.
ABL Advisor: How do you view the current lending environment as we enter an environment of rising interest rates and inflation?
Black-smith: We see opportunities in this environment. As I mentioned, one of the wonderful things about Old Hill is that they have floating rate coupons, which protects them against rising rates. Bank lenders, since 2008/2009, have really moved away from these. And it's a much tougher space for small businesses to get adequate financing. I think it's an opportunity and I think they're going to handle it very well.
ABL Advisor: What impressed you about the Old Hill team and leadership?
Black-smith: They are all very professional, great people and their backgrounds prove it. Their performance and the alpha they have delivered to their clients over a period of more than 20 years is exceptional. We met the whole team and we really appreciate them all.